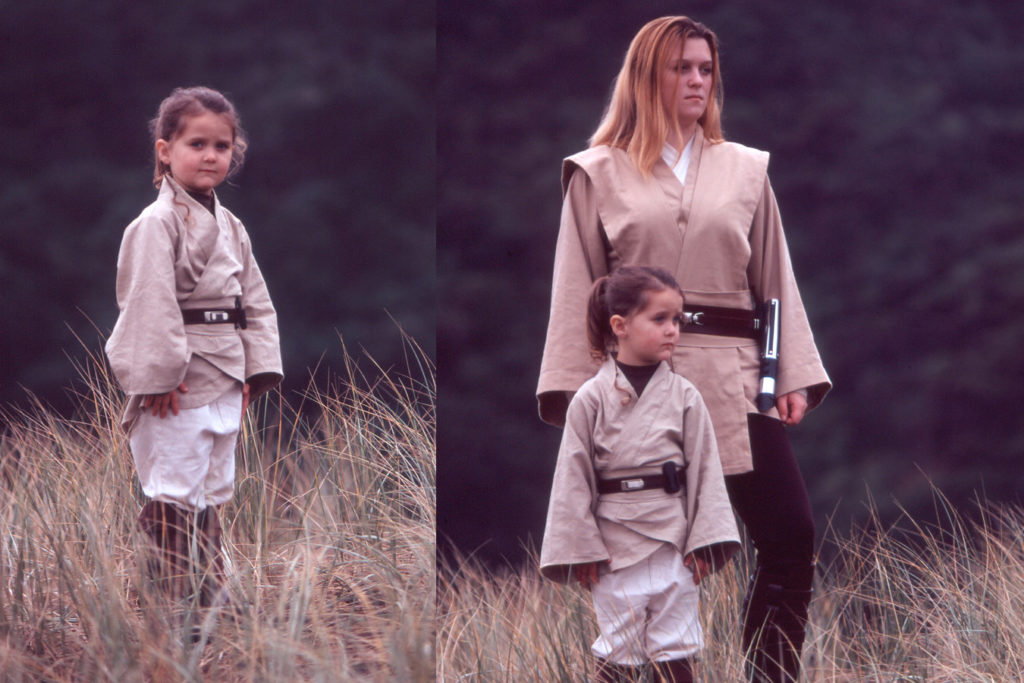 The first costume I ever wore was a Jedi youngling costume created by my mother. In 2005, I was already a big Star Wars fan and wanted my very own costume – and my very own lightsaber!
The first step was to make the pattern, which went through a series of alterations to make it perfect. Even during the mock-up stages, I wanted to pose for photos with my lightsaber!
My mum custom-made the tunic and the belt and added a store bought long sleeved t-shirt and pants. We couldn't find any knee high boots so instead we used brown jodphur boots and made brown fabric wrappings – a style inspired by young Anakin Skywalker.
My mum completed the costume in under a month as I was eager to wear my new costume to my first convention in April. I wore it to the Armageddon Expo in Wellington where I trooped alongside the Rebel Legion and 501st.
It was a great first convention, the Star Wars actors Ray Park (Darth Maul) and Daniel Logan (young Boba Fett) were amongst the celebrity guests.
I was very proud to show off my lightsaber which was my very own, created for me by my dad, I even had a belt clip to hang it on. I also showed off my classic, 'force push' pose!
A few weeks later, I wore my costume again for the premiere of Revenge of the Sith – even though I was too young to watch the film. I was such a big Star Wars fan, I still wanted to go and troop with my family.
I got some cool photos with my mum in her Jedi knight costume. Even though I was technically a Jedi youngling, I wanted to have a Jedi padawan braid. These are a few of my favourite photos of me in this costume.
One of the last times I wore it was at the Armageddon Expo in Auckland, October 2005. By this time, I was four years old and had sadly grown a little too tall to continue wearing it. We took the opportunity to get a family photo with the three of us in our Star Wars costumes.
This of course wasn't my only Jedi costume, since then I have worn many other versions, including a Jedi knight costume I made myself in 2017.